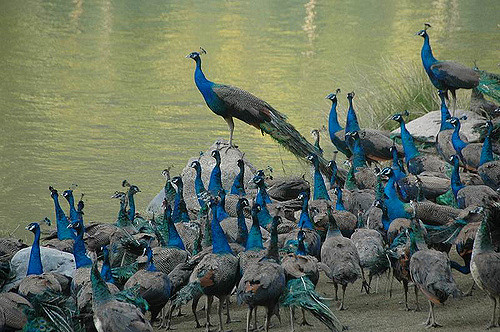 Today, the House of Representatives voted on Rep. Louie Gohmert's "social cost of carbon" amendment to H.R. 5895, the energy/water appropriations bill.
An analysis of roll call vote no. 253 shows that 22 Republicans on the Climate Solutions Caucus voted with their GOP colleagues to forbid EPA from taking into account the benefits of reducing climate emissions when promulgating regulations.  Only 13 Republicans voted to retain EPA's authority to take into account the social cost of carbon. The purpose of the amendment was to "prohibit the use of funds to prepare, propose, or promulgate any regulation or guidance related to the social cost of carbon." The amendment passed 212-201.
"This vote shows, once again, that the only endangered species Congressional Republicans care about is themselves.  A majority of the Republicans in the so-called Climate Solutions Caucus have voted to forbid EPA from taking into account the financial benefit to America of reducing carbon emissions and thus lessening the impact of climate change. They are climate peacocks," says RL Miller, founder of Climate Hawks Vote.  
"It's long past time for the Climate Solutions Caucus to disband," says Miller.  
22 Republicans in the Climate Solutions Caucus who voted for the amendment:
Bacon
Collins
Comstock
Rodney Davis
Donovan
Gaetz
Gallagher
Hultgren
Issa
Joyce
Peter King
Knight
Love
MacArthur
Reed
Reichert
Sanford
Taylor
Tenney
Upton
Zeldin
13 Republicans in the Climate Solutions Caucus who voted against the amendment:
Amodei
Bergman
Coffman
Curbelo
Faso
Fitzpatrick
Lance
Mast
Paulson
Ros-Lehtinen
Roskam
Royce
Trott
2 Republicans in the Climate Solutions Caucus who did not vote:
Costello
Walters