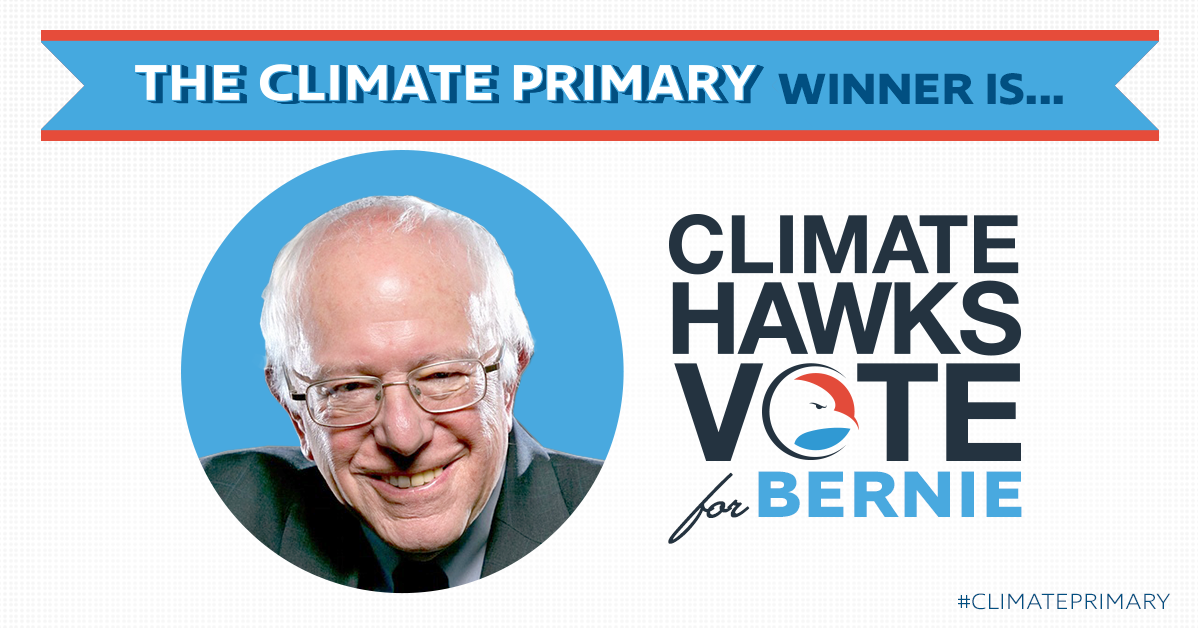 Climate Hawks Vote members overwhelmingly choose Sanders in endorsement vote
Bernie Sanders earns endorsement of grassroots climate Super PAC with 92% of votes cast
With 22,156 votes cast,Bernie Sanders has earned Climate Hawks Vote Political Action's (CHV) endorsement in the 2016 Democratic presidential primary with an extraordinary 92.2% of the vote.
View the results:
https://climatehawksvote.com/2016vote_results
CHV ranked him no. 1 in the Senate for the 113th Congress on our very tough scorecard. Sanders joined the call of our membership for the Attorney General to investigate and prosecute Exxon. Like Climate Hawks Vote Political Action, Bernie Sanders doesn't accept money from the fossil-fuel industry.
Sanders easily broke through the 75-percent supermajority threshold CHV set for the endorsement vote, which began Thursday, March 3, and ran until 11:59 ET Tuesday, March 8. An equal number of voters received messages on behalf of the candidates — one directly from Hillary Clinton, and one from Bill McKibben in support of Bernie Sanders.
RL Miller, cofounder, states: "Bernie's climate leadership is shocking the political establishment with big wins across the nation. He is inspiring people to believe again that we can do big things together and stop the destruction of our only home — and that will get them to the voting booth now and in November."
Miller continues: "We're sincerely grateful to Secretary Hillary Clinton for participating in this process and making it clear how much she values our support. We're so glad that both contenders for the Democratic nomination say they want to stand up for science and fight to end global-warming pollution. But the best candidate for the job, ready to use every tool to fight climate polluters and Republican climate deniers, is Bernie Sanders. We need clean-energy leadership in the White House. We need a climate revolution."
Miller explains the impetus behind the Climate Primary: "It's simple. As a grassroots-based organization, we wanted to listen to our members rather than make a top-down decision. Powered by our members, we're making the 2016 presidential primary the Climate Primary."
"The climate leadership of Bernie Sanders isn't only scientifically necessary — it's also politically smart," said Brad Johnson, CHV executive director. "Man-made climate change is deepening the systemic racial and economic injustice that are driving voter concerns this campaign cycle. Voters in every state in the nation are grappling with the impacts of polluted weather, decisions about the future of our energy infrastructure, the threats from an increasingly destabilized global society, and the corruption of our political system by the concentrated wealth of the fossil-fuel industry. Politicians who speak to these real voter concerns reap the benefit at the voting booth. Sanders is doing just that, with honesty and resolve."
The voting breakdown: Of 22156 votes cast, Sanders received 92.2%, Clinton 7.2%, and 0.6% voted for no endorsement. There was an email-verification step to deter ballot stuffing, and the results were audited. Sanders won 86.5% of votes cast by those who were members before balloting began.
Now that Climate Hawks Vote Political Action has endorsed, it intends to be visible in upcoming primary states, sharing climate messages tailored for voters in those states.
CHV is raising funds for its pro-Bernie climate campaigning via ActBlue:
https://secure.actblue.com/contribute/page/climatehawks4bernie
Climate Hawks Vote Political Action is a grassroots-funded Super PAC. Our average contribution is $51. We do not solicit or accept funds from fossil-fuel corporations, billionaires, or lobbyists.
---
---