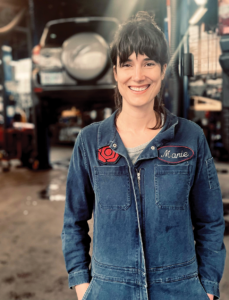 ???? Spotlight Race: Marie Gluesenkamp Perez for Congress
Climate Hawks Vote has endorsed Marie Glusekamp Perez, who is sane, in an open seat against a far right extremist who associates with Oath Keepers, Hitler fanboys, and other inhabitants of the conspiracy-theory-laden-swamp.
Click here to learn more about Marie
Click here to visit Marie's website
Many state legislators are proud of their work on moving Washington forward on climate. Others are silent. Very few state legislators are speaking up about threats to democracy in a state with a solid history of voting by mail.
Voting rules and how to vote:
Ballots were mailed to all registered voters by county election offices no later than October 21. Click here to track your ballot or for more information on voting.
October 31 is the deadline to register or update your address online. You may also register and vote in person at a county voting center through election day, Nov 8. Click here for more information on registering to vote or updating your registration.
More voting rules and regulations are available from the Secretary of State – remember your polling place or district may have changed this year!
LIST OF ALL RACES
Read this first. c/i/o = challenger, incumbent, or open seat. Pro-climate is defined inclusively as a candidate who supports climate action and the transition to clean energy. Pro-democracy is defined inclusively as a candidate who supports voting rights, access to voting, opposes gerrymandering, or even just has voter registration tools on their website. NFFM = did they sign the No Fossil Fuel Money pledge?