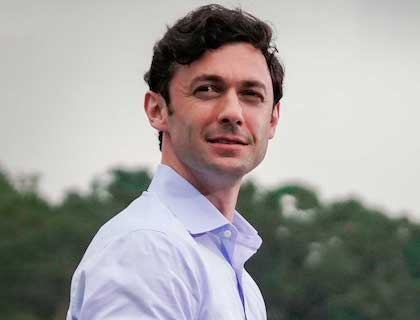 Jon Ossoff is a Georgia native, media executive, investigative journalist, and small business owner. He calls for, "a historic infrastructure plan that includes massive investments in clean energy, energy efficiency, and environmental protection." He speaks of concern for the climate, ecosystems, and human health. Incumbent Senator David Perdue is a climate denier, even while residing in a gated beachfront community being hit hard by sea-level rise.
Climate hawks voted by an overwhelming majority to endorse in the Georgia Runoffs. If Democrats win both seats in the runoff they'd have a 50-50 split in the Senate; with Vice President Kamala Harris as a tie-breaker, they'd have a theoretical bare majority. If Republicans hold both seats, they'd have a 52-48 majority and would block any substantive climate legislation. This is a race we can't afford to lose, so we're jumping in.
In this race, both Democrats will be very well funded, as will their Republican opponents. So we're doing something different: we're partnering with the New Georgia Project Action Fund to turn out voters often overlooked by campaigns. Founded by Stacey Abrams, the New Georgia Project played a critical role in the election earlier this month, is uniquely positioned for the January runoffs and welcomes support from outside Georgia.